Maraba Vocational Training Centre
Aim of Maraba project
Maraba is located in a remote rural location just north of Huye (formally known as Butare). The vocational centre was set up to increase the number of students learning vocational trades. The project incoporated two new classrooms and provided tools, equipment and furniture to teach new vocational skills.
By increasing awareness, confidence and general life skills it was envisioned that students would be better equipped to play an active role in society, support themselves and their families and use their new skills to assist with improving in the infrastructure and skills base available in the job market.
Project impact
Our assistance helped ensure that students could obtain certification for their studies. The centre was one of only a few places that helped to train students on a newly implemented short course programme which enabled more girls to learn sewing. The intention was for the students to use their skills and earn money to support themselves, their families and contribute to the local and national economy.
We successfully completed refurbishing new classrooms that served to train young people studying vocational trades and implemented an income generation project – an internet café. This enterprise helped Maraba with its running costs and assisted the team with post-project implementation. We also provided a wood store to help save money and assist income generation.
Maraba vocational project: completed 2015
2,500 school lunches (2016)
1 school library with four bookcases (2017)
1 washroom building for girls with sick bay, shower and toilets (2017)
1 large retaining wall (2017)
8 new toilets (2017)
Connection of mains electricity to classrooms (2014)
Delivery of Book Aid International books from Kigali (2017, 2019)
Over a 1,000 health insurance cards (2018, 2019, 2020)
3 lightening rods (2018)
243 lunch plates (2016)
1,200 pencils
10 footballs and some bouncy balls
1 sewage pump system (2015)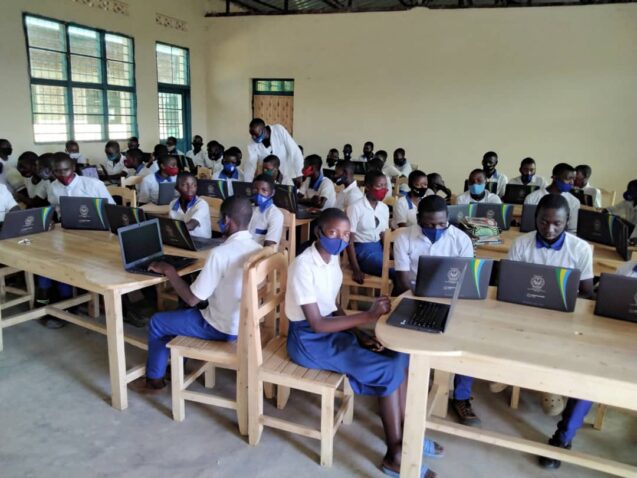 14 in-classroom library corners with books (2015)

860 school uniforms (2016, 2018)

200 items of sports kit from National Tennis Association

300 sharpeners (2016)

300 erasers (2016)
Teacher training resources (2015)
TV (2017)
1 mobile science lab (2016)

1 black/white photocopier (2010)

printer toner cartridges (2014)

2 laptops (2015)

2 iPads (2015)

Repointing brick walls in classrooms (2015)

Numeracy, science & literacy resources (2015)

1 projector and screen (2015)

4 mobile phones (2015)

2  SmartClassrooms ( March 2020)

SmartClassroom 100 chairs and 20 tables (Sept 2020)
2 library book cases (Dec 2020)
Teaching resouces ( March 2021)
Colour photocopier (March 2021)
We're fundraising!
Be part of our life-changing projects and Make a Difference today
UK registered charity number: 1127976