Barnes Primary & Rusuzumiro
school partnership
Established in 2009, we work together to foster strong cultural links, share good practice between our schools and improve educational standards
The partnership was set up to:
Foster mutual respect, cultural awareness and friendship between the two schools and their communities
Raise funds for mutually agreed projects that would help improve standards at Rusuzumiro School
Actively engage students in the partnership in a way that is real and relevant so that each community can learn from the other
Nurture regular communication so the impact of charitable donations and activities can clearly be assessed
Since 2009, Barnes Primary has raised over £60,000 to fund capacity-building projects at Rusuzumiro School.
This has been achieved through events such as the annual 'Run 4 Rusuzumiro', sponsored bike rides, Africa-inspired art exhibitions, Christmas Carol and Harvest Festival services, the famous Barnes Bake-Off spectacular, children's toy sales and movie nights and some generous one-off donations. Incredible community spirit both in Barnes and towards partner school, G.S. Rusuzumiro in Southern Province Rwanda. 
Brand new books from Book Aid International
In the 2016/2017 academic year, £11,800 was raised by Barnes Primary to fund electricity to senior classrooms, construction of a washroom block, eight toilets and a small library.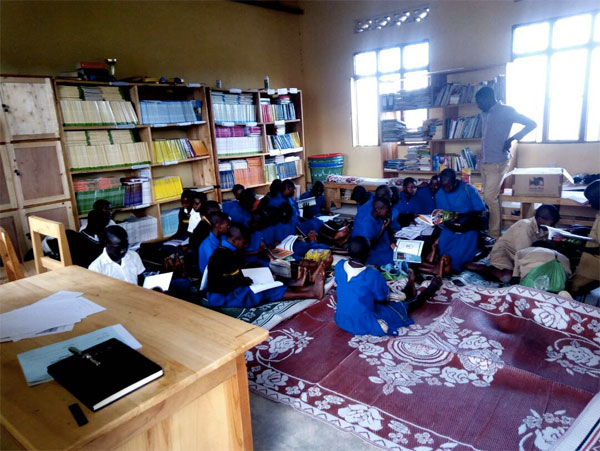 Improved educational outcomes for Rusuzumiro: 99.07% pass rate at P6 2016 national exams; 34% qualified to enter prestigious 'boarding schools' (up from 24% in 2015); higher attendance rates with 63 more children sitting national exams.
The Lawn Tennis Association (kindly organised by a former Barnes Primary parent!) generously donated sports kit to Rusuzumiro and two other local schools. 
Book Aid International generously donated over a 1,000 brand new books to Rusuzumiro's new library and two other local schools
"The children are very proud of their new library and are developing their knowledge of the world and a love of reading." Dalexis Nzabahimana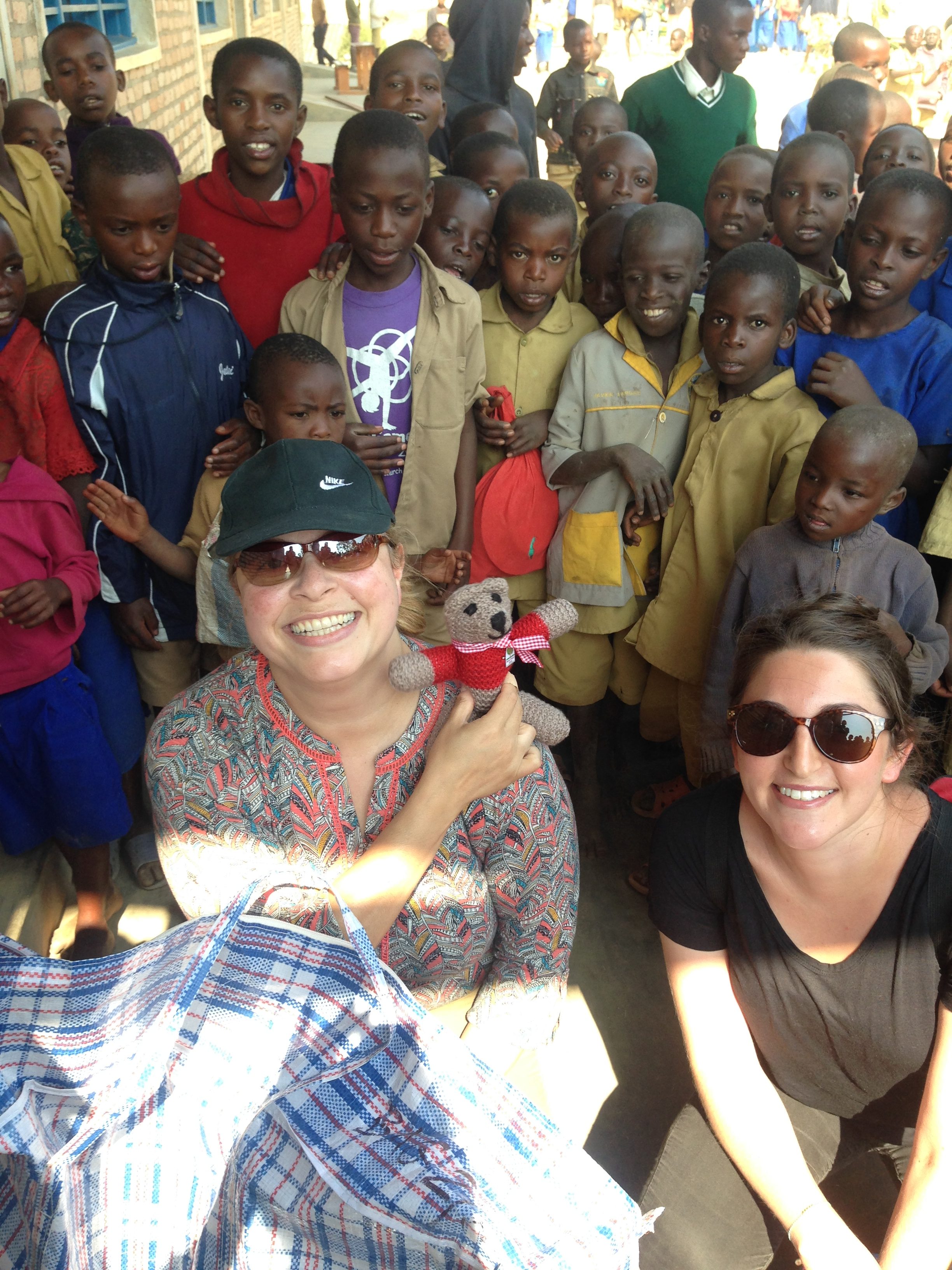 Members of Barnes Primary community rowed 34km in the 2017 London Great River Race to raise money for the new residential accommodation at
ASFA Physio Centre
.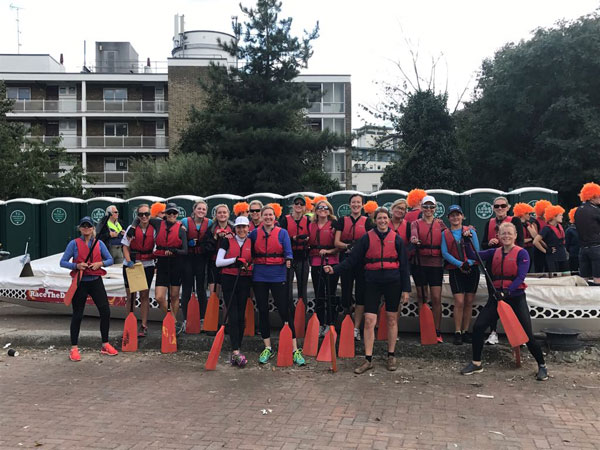 Rusuzumiro School joined Barnes Primarys' Newsnuggets Club taking the news club international and winning the People's Choice Award at the BrightFuture Awards at City Hall in Dec 2016 www.newsnuggets.co.uk
2019-2020 Projects
SmartClassroom Furniture – project cost: £2,500
Following an impressive year of fund raising in 2018/2019 by the Barnes Primary School community and a most industrious set of Rusuzumiro parents who excavated the school grounds during July and August 2019,   we were able to start construction on 3 September 2019 to build two ICT classrooms at Rusuzumiro School!
The Rwandan Education Board (REB) has pledged to provide 100 computers on completion of these classrooms to create two SmartClassrooms. There is no spare classroom furniture at the school, however, so the fund raising focus for 2019/2020 is to raise £2,500 for 20 computer tables and 100 chairs (50 students per classroom) so the students have somewhere to work. Rather essential don't you think?
There are a total of 32 people working on site as of early October 2019 with 31 of these workers either having children or siblings at Rusuzumiro School. This clearly demonstrates that the benefits of this project reach far beyond the provision of new classrooms that hundreds of students will enjoy for years to come, but it also provides employment for a number of local families in the short term that helps to improve their standard of living.
Fence & Gate Project – cost £11,500   Once the ICT classroom furntiure project has been completed, we will revert to raising funds for the final project in the BIG 10th Anniversary Project challenge – The Fence and Gate Project. This will ensure that all the school resources everyone has worked  so hard to provide will be kept safe. 
Glasses Project update – all glasses that were collected up to July 2019 have been delivered to Rwanda and we now just need to find an optometrist to test the children's eyes! This is proving more difficult than expected but we shall keep trying and hope that the government's eye testing programme may even reach Rusuzumiro School first! 
Thank you for all your support – it really does make a difference to over 1,400 students at Rusuzumiro School, their teachers and their families.  Together, we really can Make A Difference!
(below) Construction of ICT classrooms at Rusuzumiro – Sept 2019)
COMPLETED PROJECTS 
Completed July 2019
360 health insurance cards for low income families for the year July 2019 – June 2020 – 

 a £3 health card gives a person annual access to the government health care system.

360 school uniforms for low income families. 
Completed July 2018
360 health insurance cards for low income families for the year July 2018 -June 2019. 

Installation of three lightning conductors
Completed March 2018
360 uniforms for children from low income families
Completed November 2017
Dedicated library and transportation of Book Aid International books from Kigali to Rusuzumiro School to fill it with books!
Completed April – July 2017 

Eight new 

toilets

Washroom block with sick bay, toilets and shower. 
Completed April 2014
Connection of electricty from mainstreet to classrooms
The schools first photocopier! 
In addition, teachers have enjoyed professional development workshops and students at both schools to strengthen the school partnership such as English and Newsnuggets Clubs, Art Exhibitions, Rwandan Dance workshops, and a number of collaborative projects. New teaching resources, as well as well-loved children's shoes,  clothes, toys and books have been donated over the ye
Thank you Barnes Primary School for your continued support of our school – we appreciate this wonderful school partnership!
 (below) – Barnes Primary School parent, Cate Summers, enjoys finding a new home for each pair of shoes donated by friends from Barnes Primary –  June 2019.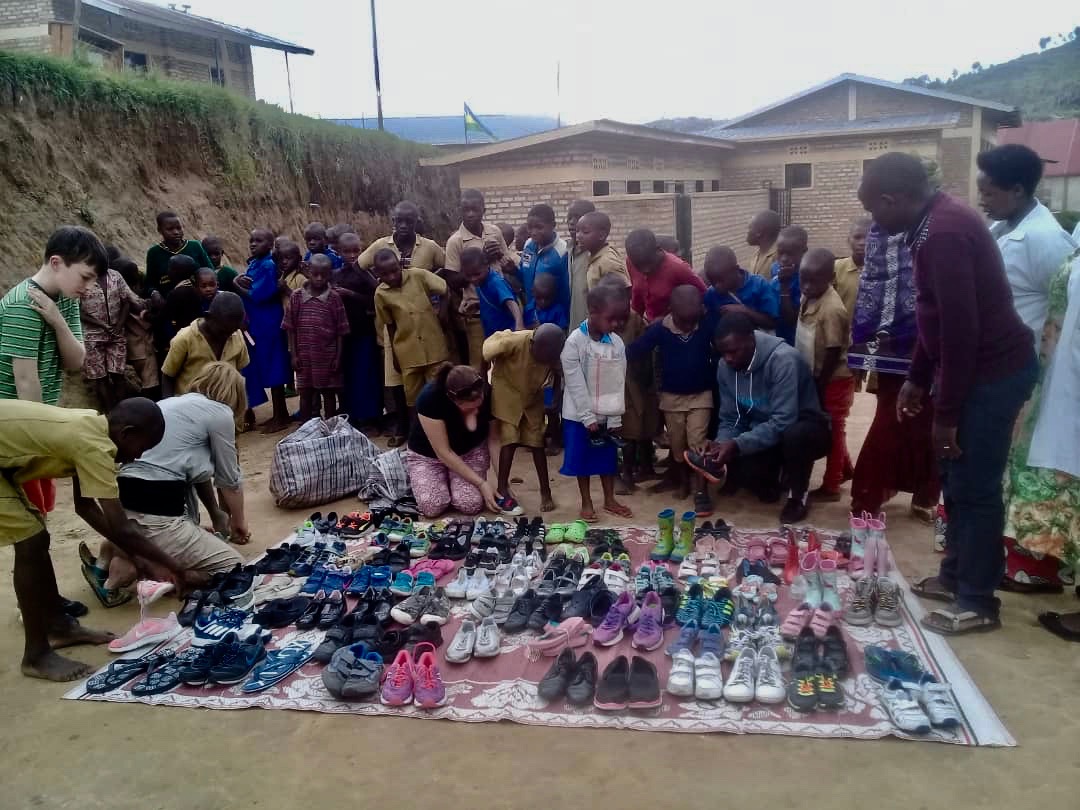 Barnes & Rusuzumiro School Partnership in Numbers
2,500 school lunches
1 school library with four bookcases
1 washroom building for girls with sick bay and toilets
1 retaining wall
8 new toilets
Connection to mains electricity supply to light school classrooms
450 brand new books from Book Aid International
360 health insurance cards
3 lightening rods
14 in-classroom library corners with books

860 school uniforms since the partnership began

200 items of sports kit from National Tennis Association

300 sharpeners

300 erasers

243 lunch plates

1,200 pencils

10 footballs and some bouncy balls

1 sewage pump system
1 mobile science lab

1 photocopier

Printer toner cartridges

2 laptops

2 iPads

Repointing brick walls in classrooms

Numeracy, science & literacy resources

1 projector and screen

4 mobile phones
We're fundraising!
Be part of our life-changing projects and Make a Difference today
UK registered charity number: 1127976