Meet the ASFA Physio team
Sr. Josephine NYIRANZANWAYIMANA
Founder
Sr. Josephine has lived and worked in Muganza for over 10 years. She has a deep passion for helping the poor, particularly those with disabilities and is the driving force behind everything at ASFA.
Read More

Her compassion and wicked sense of humour touches everyone she meets – she is unstopable and quite frankly an inspiration to us all.
Jean DUSABE
Project Manager
Jean makes things happen. He speaks impeccable English, French and Kinyarwanda, is a qualified nurse and teacher, loves a to-do-list and just gets stuff done. He manages all communictaion between the UK and Rwanda and helps manage a number of projects on the ground. He provides invaluable cultural advice (i.e. tells us how it is!) and does it with the cheeky smile you see above!  
Diogene MURWANASHYAKA
Physiotherapist
Diogene is a qualified Rwandan physiotherapist who gratudated from the  College of Medicine and Health Sciences at the University of Rwanda. He worked at the Kigali Health Institute before taking up the position as lead physiotherapist at ASFA Physiotherapy in March 2017.
Read More

His gentle but professional manner is gold dust with the children and when off duty, enjoys singing in the local choir with his friends and playing sport.

 
ASFA Carers
Superstars
Meet the backbone of life at ASFA Physio – our superstar carers! They are a dedicated group of women who care for the children day in, day out while working on individual treatment plans and towards important developmental milestones for every child.
Read More

One of our carers, Francine, a former patient,  received treatment at ASFA for over a year after she contracted tuberculosis leaving her with impaired mobility in both her arms and legs. Notwithstanding this challenge, Francine always helped with the inpatients and it soon became apparent that she was an intuitive and brilliant carer. We offered her a job and very happily she accepted! 
2,500 school lunches (2016)
1 school library with four bookcases (2017)
1 washroom building for girls with sick bay, shower and toilets (2017)
1 large retaining wall (2017)
8 new toilets (2017)
Connection of mains electricity to classrooms (2014)
Delivery of Book Aid International books from Kigali (2017, 2019)
Over a 1,000 health insurance cards (2018, 2019, 2020)
3 lightening rods (2018)
243 lunch plates (2016)
1,200 pencils
10 footballs and some bouncy balls
1 sewage pump system (2015)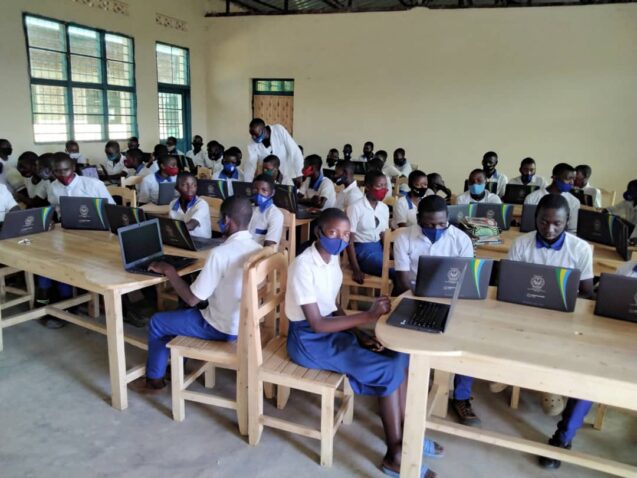 14 in-classroom library corners with books (2015)

860 school uniforms (2016, 2018)

200 items of sports kit from National Tennis Association

300 sharpeners (2016)

300 erasers (2016)
Teacher training resources (2015)
TV (2017)
1 mobile science lab (2016)

1 black/white photocopier (2010)

printer toner cartridges (2014)

2 laptops (2015)

2 iPads (2015)

Repointing brick walls in classrooms (2015)

Numeracy, science & literacy resources (2015)

1 projector and screen (2015)

4 mobile phones (2015)

2  SmartClassrooms ( March 2020)

SmartClassroom 100 chairs and 20 tables (Sept 2020)
2 library book cases (Dec 2020)
Teaching resouces ( March 2021)
Colour photocopier (March 2021)
We're fundraising!
Be part of our life-changing projects and Make a Difference today
UK registered charity number: 1127976