Working in partnership to Make a Difference
Together with local communities, we help deliver sustainable grassroots projects in healthcare and education
ASFA Centre, Muganza, Rwanda
Make a Difference 4 Africa have helped establish ASFA Physiotherapy for disabled children
Vocational Training Centres, Rwanda
Make a Difference 4 Africa have completed two vocational training centres in Rwanda
Latest News
Physiotherapy: ASFA Physiotherapy Centre is now operating from the new building and awaiting the arrival of specialist equipment from the UK before scaling to capacity. The final item on our wish list is solar panels to provide hot water. If you would like to read more about this project or perhaps make a donation, please kindly click here. Please click here to see a short film about ASFA Physiotherapy Centre and click here to meet young Mugisha – a shining example of hard work and determination.
Education: GS Rusuzumiro School's computers arrived in early March 2021 and the ICT classrooms are now in full swing! Please click here for a short film about The SmartClasssroom Project. 
COVID_19: Our projects have been severely impacted by the pandemic – from the suspension of construction for seven weeks, increase in building materials, extra staff travel and accommodation costs and PPE equipment at ASFA Physio. Impact on future school projects has been felt too from the increase in building costs and an understandably reduced fundraising capacity here in the UK. We are all volunteers and here for the long term. Every penny we raise goes directly towards our projects so please, now more than ever, consider being part of our work  –  together we really can Make a Difference.
Thank you and as our motto goes…"if you think your too small to make a difference, try sleeping with a mosquito!"
Team MAD 4 Africa 
2,500 school lunches (2016)
1 school library with four bookcases (2017)
1 washroom building for girls with sick bay, shower and toilets (2017)
1 large retaining wall (2017)
8 new toilets (2017)
Connection of mains electricity to classrooms (2014)
Delivery of Book Aid International books from Kigali (2017, 2019)
Over a 1,000 health insurance cards (2018, 2019, 2020)
3 lightening rods (2018)
243 lunch plates (2016)
1,200 pencils
10 footballs and some bouncy balls
1 sewage pump system (2015)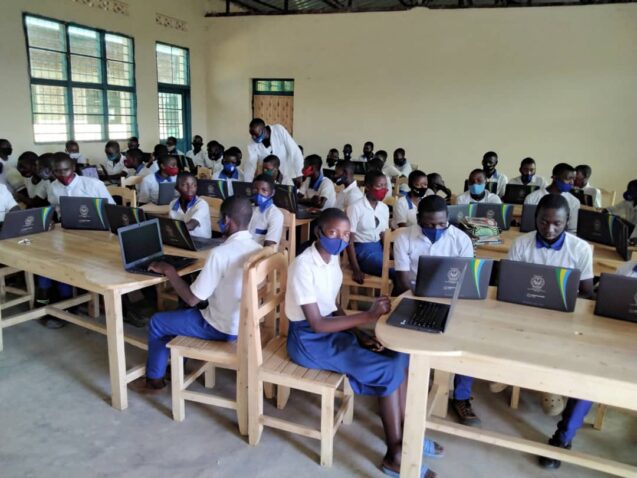 14 in-classroom library corners with books (2015)

860 school uniforms (2016, 2018)

200 items of sports kit from National Tennis Association

300 sharpeners (2016)

300 erasers (2016)
Teacher training resources (2015)
TV (2017)
1 mobile science lab (2016)

1 black/white photocopier (2010)

printer toner cartridges (2014)

2 laptops (2015)

2 iPads (2015)

Repointing brick walls in classrooms (2015)

Numeracy, science & literacy resources (2015)

1 projector and screen (2015)

4 mobile phones (2015)

2  SmartClassrooms ( March 2020)

SmartClassroom 100 chairs and 20 tables (Sept 2020)
2 library book cases (Dec 2020)
Teaching resouces ( March 2021)
Colour photocopier (March 2021)
We're fundraising!
Be part of our life-changing projects and Make a Difference today
UK registered charity number: 1127976